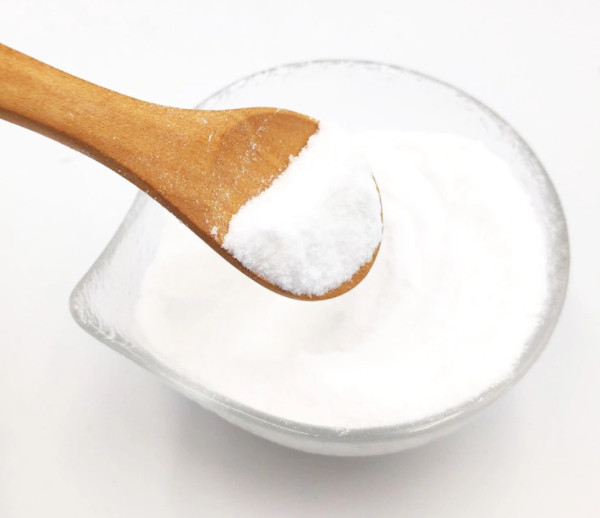 In cooking, baking soda is primarily used in baking as a leavening agent. When it reacts with acid, carbon dioxide is released, which causes expansion of the batter and forms the characteristic texture and grain in pancakes, cakes, quick breads, soda bread, and other baked and fried foods. The acid-base reaction can be generically represented as follows:[10]
Acidic materials that induce this reaction include hydrogen phosphates, cream of tartar, lemon juice, yogurt, buttermilk, cocoa, and vinegar. Baking soda may be used together with sourdough, which is acidic, making a lighter product with a less acidic taste.[11]
Heat can also by itself cause sodium bicarbonate to act as a raising agent in baking because of thermal decomposition, releasing carbon dioxide at temperatures above 80 °C (180 °F), as follows:[12]
When used this way on its own, without the presence of an acidic component (whether in the batter or by the use of a baking powder containing acid), only half the available CO2 is released (one CO2 molecule is formed for every two equivalents of NaHCO3). Additionally, in the absence of acid, thermal decomposition of sodium bicarbonate also produces sodium carbonate, which is strongly alkaline and gives the baked product a bitter, "soapy" taste and a yellow color. Since the reaction occurs slowly at room temperature, mixtures (cake batter, etc.) can be allowed to stand without rising until they are heated in the oven.
When adding acid, alkaline ingredients such as whole milk or Dutch-processed cocoa are often added to baked foods to avoid an over-acidic taste from the added acid.[13]
Baking powder, also sold for cooking, contains around 30% of bicarbonate, and various acidic ingredients which are activated by the addition of water, without the need for additional acids in the cooking medium.[14][15][16] Many forms of baking powder contain sodium bicarbonate combined with calcium acid phosphate, sodium aluminium phosphate, or cream of tartar.[17] Baking soda is alkaline; the acid used in baking powder avoids a metallic taste when the chemical change during baking creates sodium carbonate.
Sodium bicarbonate was sometimes used in cooking green vegetables, as it gives them a bright green colour—which has been described as artificial-looking—due to its reacting with chlorophyll to produce chlorophyllin.[18] However, this tends to affect taste, texture and nutritional content, and is no longer common.[19]
Baking soda is used to soften pulses (peas, beans) before and during cooking, as in the traditional British mushy peas recipe for soaking the peas. The main effect of sodium bicarbonate is to modify the pH of the soaking solution and cooking water; this softens the hard external shell, reduces cooking times and may alter the percentage of nutrients in the dish, its flavour and consistence.
Baking soda may react with acids in food, including vitamin C (L-ascorbic acid).
It is used in Asian and Latin American cuisine to tenderize meats. It is also used in breading, such as for fried foods, to enhance crispness and allow passages for steam to escape, so the breading is not blown off during cooking.
Sodium bicarbonate can be an effective way of controlling fungal growth,[20] and in the United States is registered by the Environmental Protection Agency as a biopesticide.[21]
Sodium bicarbonate can be added to swimming pools, spas, and garden ponds to raise the total alkalinity (increase the pH).[22]
Sodium bicarbonate is one of the main components of the common "black snake" firework. The effect is caused by the thermal decomposition, which produces carbon dioxide gas to produce a long snake-like ash as a combustion product of the other main component, sucrose.
It has weak disinfectant properties,[23][24] and it may be an effective fungicide against some organisms.[25] Because baking soda will absorb musty smells, it has become a reliable method for used book sellers when making books less malodorous.[26]
Sodium bicarbonate can be used to extinguish small grease or electrical fires by being thrown over the fire, as heating of sodium bicarbonate releases carbon dioxide.[27] However, it should not be applied to fires in deep fryers; the sudden release of gas may cause the grease to splatter.[27] Sodium bicarbonate is used in BC dry chemical fire extinguishers as an alternative to the more corrosive diammonium phosphate in ABC extinguishers. The alkaline nature of sodium bicarbonate makes it the only dry chemical agent, besides Purple-K, that was used in large-scale fire suppression systems installed in commercial kitchens. Because it can act as an alkali, the agent has a mild saponification effect on hot grease, which forms a smothering, soapy foam.
Sodium bicarbonate reacts spontaneously with acids, releasing CO2 gas as a reaction product. It is commonly used to neutralize unwanted acid solutions or acid spills in chemical laboratories.[28] It is not appropriate to use sodium bicarbonate to neutralize base[29] even though it is amphoteric, reacting with both acids and bases.
Sodium bicarbonate mixed with water can be used as an antacid to treat acid indigestion and heartburn.[30] Its reaction with stomach acid produces salt, water, and carbon dioxide:
A mixture of sodium bicarbonate and polyethylene glycol such as PegLyte,[31] dissolved in water and taken orally, is an effective gastrointestinal lavage preparation and laxative prior to gastrointestinal surgery, gastroscopy, etc.
Intravenous sodium bicarbonate in an aqueous solution is sometimes used for cases of acidosis, or when insufficient sodium or bicarbonate ions are in the blood.[32] In cases of respiratory acidosis, the infused bicarbonate ion drives the carbonic acid/bicarbonate buffer of plasma to the left, and thus raises the pH. For this reason, sodium bicarbonate is used in medically supervised cardiopulmonary resuscitation. Infusion of bicarbonate is indicated only when the blood pH is markedly low (< 7.1–7.0).[33]
HCO3− is used for treatment of hyperkalemia, as it will drive K+ back into cells during periods of acidosis.[34] Since sodium bicarbonate can cause alkalosis, it is sometimes used to treat aspirin overdoses. Aspirin requires an acidic environment for proper absorption, and the basic environment diminishes aspirin absorption in the case of an overdose.[35] Sodium bicarbonate has also been used in the treatment of tricyclic antidepressant overdose.[36] It can also be applied topically as a paste, with three parts baking soda to one part water, to relieve some kinds of insect bites and stings (as well as accompanying swelling).[37]
Some alternative practitioners, such as Tullio Simoncini, have promoted baking soda as a cancer cure, which the American Cancer Society has warned against due to both its unproven effectiveness and potential danger in use.[38] Edzard Ernst has called the promotion of sodium bicarbonate as a cancer cure "one of the more sickening alternative cancer scams I have seen for a long time".[39]
Sodium bicarbonate can be added to local anesthetics, to speed up the onset of their effects and make their injection less painful.[40] It is also a component of Moffett's solution, used in nasal surgery.
As early as the 1920s, bicarbonate was found to cause increased bone strength in patients who were losing calcium in their urine. In 1968, diets producing too much acid were thought to put bones at risk.[41] Experiments by Anthony Sebastian of the University of California, San Francisco starting in the late 20th century found that the body was breaking down bones and muscles to release carbonates, phosphates, and ammonia, which neutralize acid. Adding bicarbonate to the diet (he chose to use the sodium-free saleratus, potassium bicarbonate) reduced loss of calcium in postmenopausal women, amounting to the equivalent of "an arm-and-a-leg's worth" of bone if this continued for two decades.
Antacid (such as baking soda) solutions have been prepared and used by protesters to alleviate the effects of exposure to tear gas during protests.[42][43]
Similarly to its use in baking, sodium bicarbonate is used together with a mild acid such as tartaric acid as the excipient in effervescent tablets: when such a tablet is dropped in a glass of water, the carbonate leaves the reaction medium as carbon dioxide gas ( HCO3− + H+ → H2O + CO2↑ or, more precisely, HCO3− + H3O+ → 2 H2O + CO2↑ ) leaving the medication dissolved in the water together with the resulting salt (in this example, sodium tartrate).
Toothpaste containing sodium bicarbonate has in several studies been shown to have a better whitening[44][44][45][46] and plaque removal effect[47][48] than toothpastes without it.
Sodium bicarbonate is also used as an ingredient in some mouthwashes. It has anticaries and abrasive properties.[49] It works as a mechanical cleanser on the teeth and gums, neutralizes the production of acid in the mouth, and also acts as an antiseptic to help prevent infections.[50][51] Sodium bicarbonate in combination with other ingredients can be used to make a dry or wet deodorant.[52][53] Sodium bicarbonate may be used as a buffering agent, combined with table salt, when creating a solution for nasal irrigation.[54]
It is used in eye hygiene to treat blepharitis. This is done by addition of a teaspoon of sodium bicarbonate to cool water that was recently boiled, followed by gentle scrubbing of the eyelash base with a cotton swab dipped in the solution.[55]
Sodium bicarbonate is used as a cattle feed supplement, in particular as a buffering agent for the rumen.[56]
Although small doses of sodium bicarbonate have been used as a supplement for athletes in speed-based events, such as middle-distance running, there is insufficient evidence for benefit, and overdose is a health risk because sodium bicarbonate may cause gastrointestinal irritation.[57]
Sodium bicarbonate is used in a process for removing paint and corrosion called sodablasting; the process is particularly suitable for cleaning aluminium panels which can be distorted by other types of abrasives.
A manufacturer recommends a paste made from baking soda with minimal water as a gentle scouring powder,[27] and is useful in removing surface rust, as the rust forms a water-soluble compound when in a concentrated alkaline solution;[58] cold water should be used, as hot-water solutions can corrode steel. [59] Sodium bicarbonate attacks the thin protective oxide layer that forms on aluminium, making it unsuitable for cleaning this metal.[60] A solution in warm water will remove the tarnish from silver when the silver is in contact with a piece of aluminium foil.[60][61] Baking soda is commonly added to washing machines as a replacement for water softener and to remove odors from clothes. It is also effective in removing heavy tea and coffee stains from cups when diluted with warm water. Also, baking soda can be used as a multipurpose odor remover.[62]
During the Manhattan Project to develop the nuclear bomb in the early 1940s, the chemical toxicity of uranium was an issue. Uranium oxides were found to stick very well to cotton cloth, and did not wash out with soap or laundry detergent. However, the uranium would wash out with a 2% solution of sodium bicarbonate. Clothing can become contaminated with toxic dust of depleted uranium (DU), which is very dense, hence used for counterweights in a civilian context, and in armour-piercing projectiles. DU is not removed by normal laundering; washing with about 6 ounces (170 g) of baking soda in 2 gallons (7.5 l) of water will help to wash it out.[63]
Article excerpt to Wikipedia.